If you are here, I'm imagining that you're currently in a lot of emotional pain and are not only looking for relief but an end to this agonizing cycle. What I know for sure is that a breakup, separation, or divorce is one of the hardest things a human being will ever endure. They bring up our past traumas, our disempowering stories we are holding about ourselves, others, and life, and an overwhelming sense of despair. Having the right set of tools to navigate through the dark is essential.

This is where I come in. I'm a certified conscious uncoupling coach and I'm so happy you are here. My mission in this lifetime is to help people to reclaim their power so that they become centered in their worthiness and start to live their most extraordinary, authentic and fulfilling lives! I will help you to see that the pain you are currently experiencing is happening for you, not to you. Your true self wants to wake up and this pain is giving you that chance. Ultimately, this shift in your perspective is what will lead you out of the fog into clarity and true empowerment.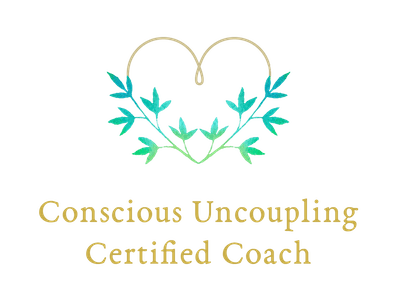 Together, we will take a deep dive into the five Conscious Uncoupling steps.

1. Find Emotional Freedom
In this first step, I will invite you to unload the difficult or scary feelings that are coming up for you such as rage, sadness, and confusion. Taking the time to slow down to feel and honor each of our feelings is by far the most self loving thing we could ever do for ourselves. One thing I'm certain of is that we have to feel it to heal it. I will teach you the Inner Sanctuary of Safety practice where you will learn how to turn towards your emotional pain and offer internal safety and support to soothe yourself. Once you have the tools to self soothe, you will no longer need external validation and you will know an inner peace that no one can ever take from you.

2. Reclaiming Your Power and Your Life
In this step, you will start to look at all of the ways you have been giving your power away in your relationship(s). Once you face your truth, you will give yourself the greatest gift moving forward, which is that you'll never self abandon again! You will start to feed yourself power by asking yourself empowering questions such as, What amends do I need to make to myself to ensure this painful pattern will never happen again? Maybe it was 97 percent the other person. I will work with you to identify your 3 percent. Taking accountability for the part you played in the relational dynamic may be uncomfortable initially but I promise you it's the only way to establish trust within yourself so that you will NEVER allow that dynamic ever again!

3. Break the Pattern, Heal Your Heart
I will help you to identify your source fracture story. Our source fracture's typically originate in childhood and cause a lot of turmoil until we identify and heal them. An example of a source fracture is the deep belief that you are unloveable or not enough. If this is your belief, you will attract relationships that mirror this belief back to you. You are so much more than your limiting beliefs you have been captive to until now. This is the step where we will come up with your new truths and the skills you will need to learn so that you can break free from your dysfunctional patterns once and for all!

4. Become A Love Alchemist
In this step, I will help you to awaken as the co-creator of your life and your future. You will be given the tools on how to create healthier relational dynamics with yourself and others. This is the step where you take a huge stand for yourself and define the intention you are committed to creating for yourself and your life moving forward! I love this part of the process with my clients because they have already done a lot of heavy emotional lifting in the previous steps and now they are starting to sense that something feels different within them. There is a feeling of hope and a newfound confidence for what their lives can now be.

5. Creating Your Happily Even After
In this final step, we will celebrate your wins throughout our work together! I will guide you in completing your old agreements with your former partner so that you can generate healthier ones moving forward. You will start imagining and then living your new story! The one where you are thriving and excited about your new life and the happy and healthy partnership you are now committed to creating and calling in when you are ready. At the end of our work together, I want you to see this breakup or divorce as the BEST thing that ever happened to you! For it brought you to your knees and inspired you to do the inner work, heal, and start showing up as your best badass self. You will become unrecognizable to yourself in the best ways possible.
"I am going to tell you a true story. You overcome it all. The end"